ANIMATED OPERA
Workshops for the opera and the animation
The Greek National Opera launches its partnership with high schools in the Prefecture of Attica with a series of animation workshops focused around the art of opera. Pupils will familiarise themselves with audiovisual media and the art of animation in particular, exploring the expressive potential those media have. Participants will experiment and explore visual, compositional and narrative skills through a hands-on, creative process, where characters, themes, emotions and music from selected operas are the source of inspiration and springboard for their own original works.
Kicking off with musical excerpts from the classical and modern opera repertoire, and studying selected excerpts from opera libretti, students -supported by skilled visual artists/workshop facilitators- will create their own multimedia narratives. The workshops round off with each school producing short, original video animations.
SCHOOL YEAR 2018-2019
The scheduled performances of the Greek National Opera ''The Marriage of Figaro'' by Mozart and the ballet triptych ''From Russia with Love'' based on a compilation of Stravisky's works were the source of inspiration for the students this year. It was required of them, with the help of specialised Karpos trainers, to create animation shorts. The program consisted of : watching the final rehearsal at the GNO and participating in four 3hour workshops at their school. The students at first are familiarised with opera and animation, with audiovisual technology and equipment, and then based on the libretto and the music of the show they create their own narrative. In the end they shooted their scenes with the technique of stop motion animation and were introduced to image and music composition.
The schools that were chosen for this year are :4th junior high of Paleo Faliro, the music junior high of Alimos, the 12th junior high of Athens and the 9th junior high of Acharnes.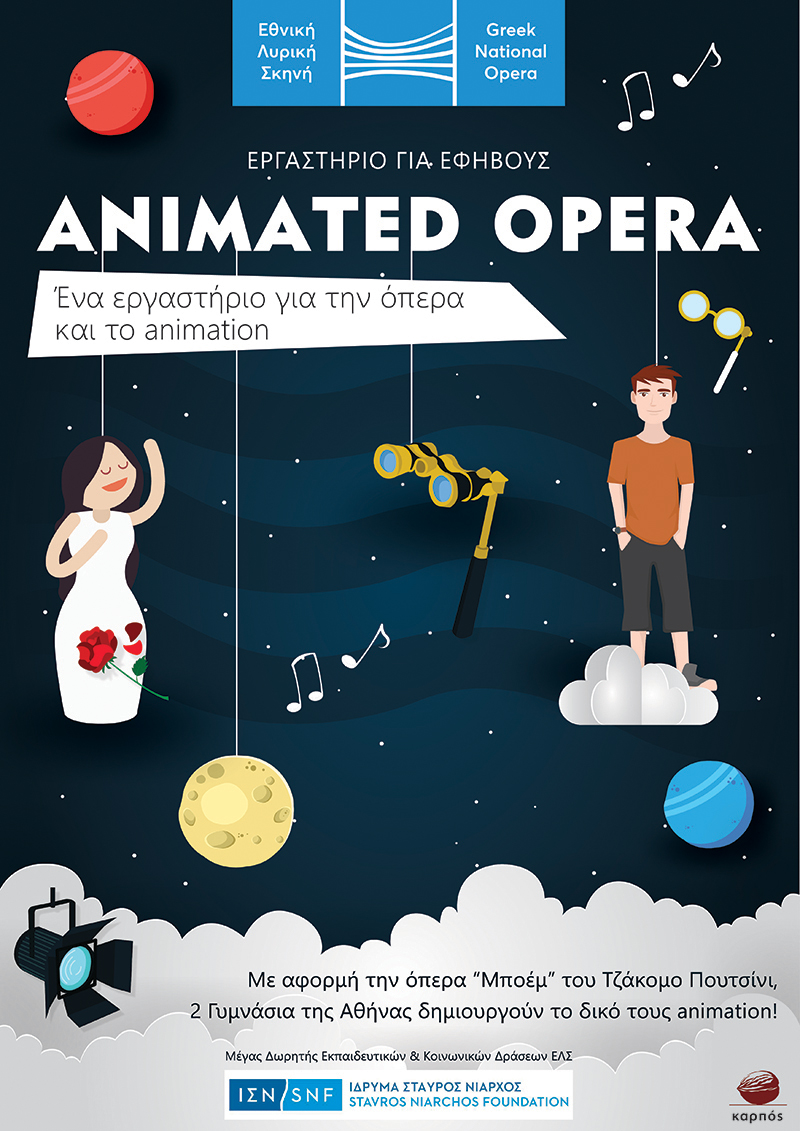 PROGRAM STRUCTURE 2017-2018
Introduction to the Opera

Karpos team, in cooperation with Ms. Dina Strani visited the two schools where the students were introduced to the opera, they met with the Bohemian libretto and took part in... breathing and vocal exercises!

5/12/2017: Discussion with representatives of the Greek National Opera

The students of the two schools met in the foyer of the Greek National Opera, visited the Alternative Stage and discussed with Mrs. Nakou and Mrs. Strani as well as the Art Director of the Alternative Stage, Alexandros Euclidis.

5/12/2017: Rehearsal tracking "La Boheme"

The pupils were then the exclusive viewers of the rehearsal of "La Boheme" directed by Graham Vick!

Stop Motion Animation Workshops

In December till February, four workshops of three hours took place, where students inspired by Bohemia's story and aesthetics created their own storyboard, their own heroes and their own scenarios!

Final event

A final event was organised by Karpos and GNO of Greece, with the participation of both schools. The students presented their work, they discussed about the project at the same time that theatrical games and evaluation exercises were held.