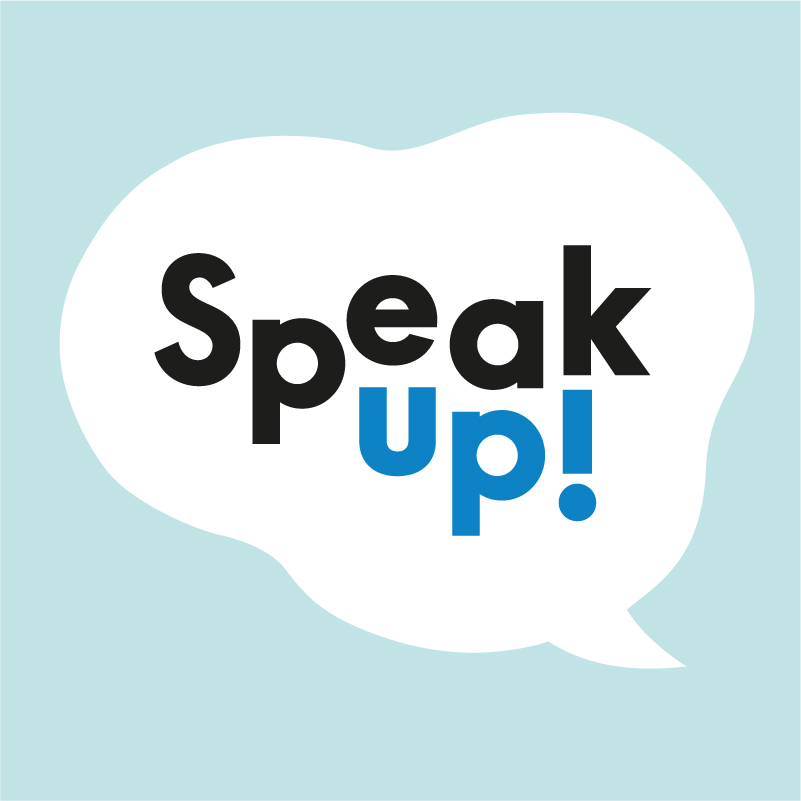 SPEAK UP!
Media for Inclusion
ERASMUS+ 2019 - 2021
Karpos is part of the european project Speak Up-Media For Inclusion which answers the needs of today's society for a smooth integration of young refugees/migrants to their host countries through the use of audiovisual production and media literacy. Τhe project is implemented by 6 organizations across 5 different European countries: ERIM and Réseau Raje, both French organizations, will be leading the project working together with FORMA.Azione (Italy), NextStep! (Hungary), Common Frames (Netherlands) and Karpos (Greece).

Here you can check out the European site of the program.
On November 13, 2020 we implemented a webinar for 27 teachers and trainers. The purpose of this webinar was to train them in media literacy and video making. This training was divided into 2 hours, in the first hour we focused on the media literacy part using as a tool the award-winning workshop ''An object in 5 ways". This workshop was the first to be held online and from the reactions of the participants we saw that the transition to the online form was successful.
In the second hour of the training using the short documentary Portrait Day (2019, directed by Maria Leonida) we examined the following:
-the construction of an audiovisual creation
-the relationship between the creativity and the intentions of the creator and the feelings and thoughts of the viewer
-how a shot can promote the story
-how a short film can be designed to be shot in a short amount of time
-presentation and selection of data from the guide for creating short films by our partners in the program from the Netherlands Common Frames.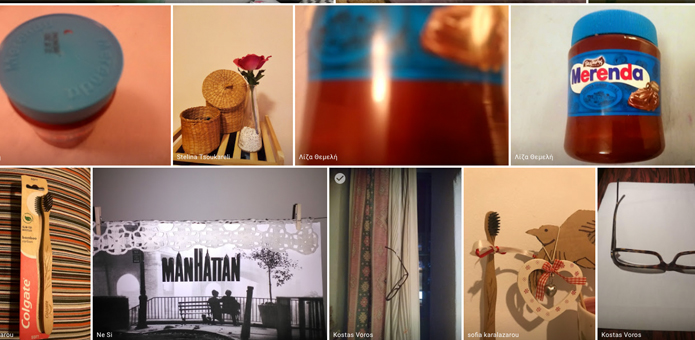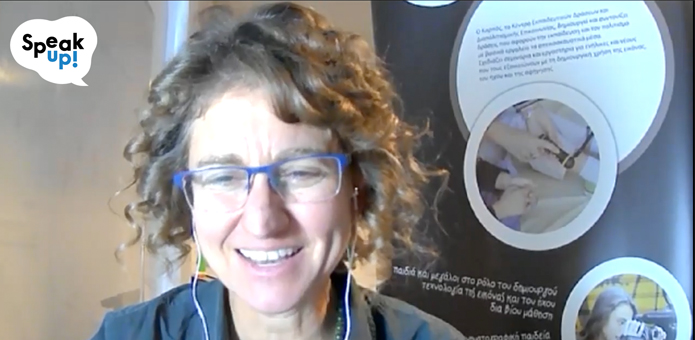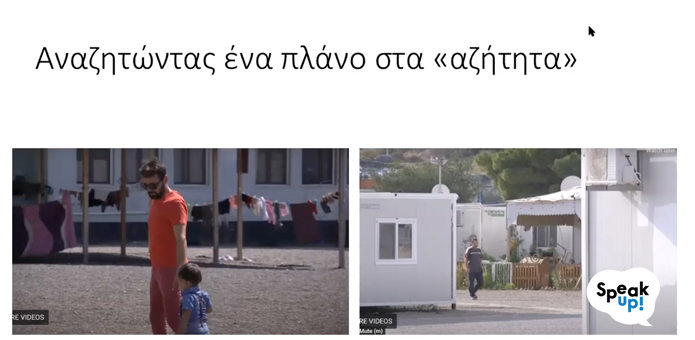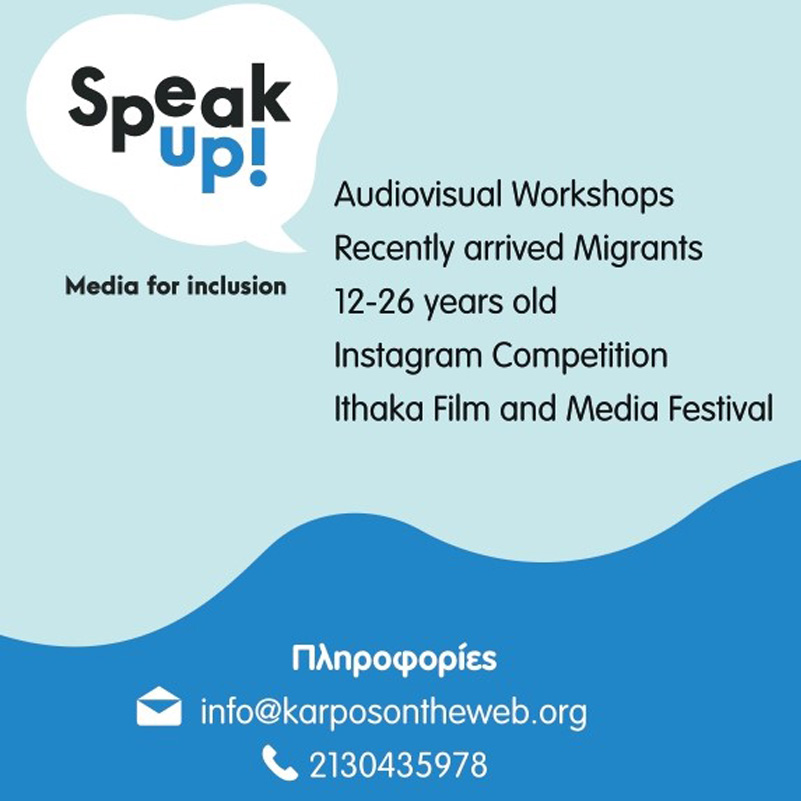 Onine audiovisual workshops for recently arrived migrants
For more information ask at: info@karposontheweb.org or call 2130435978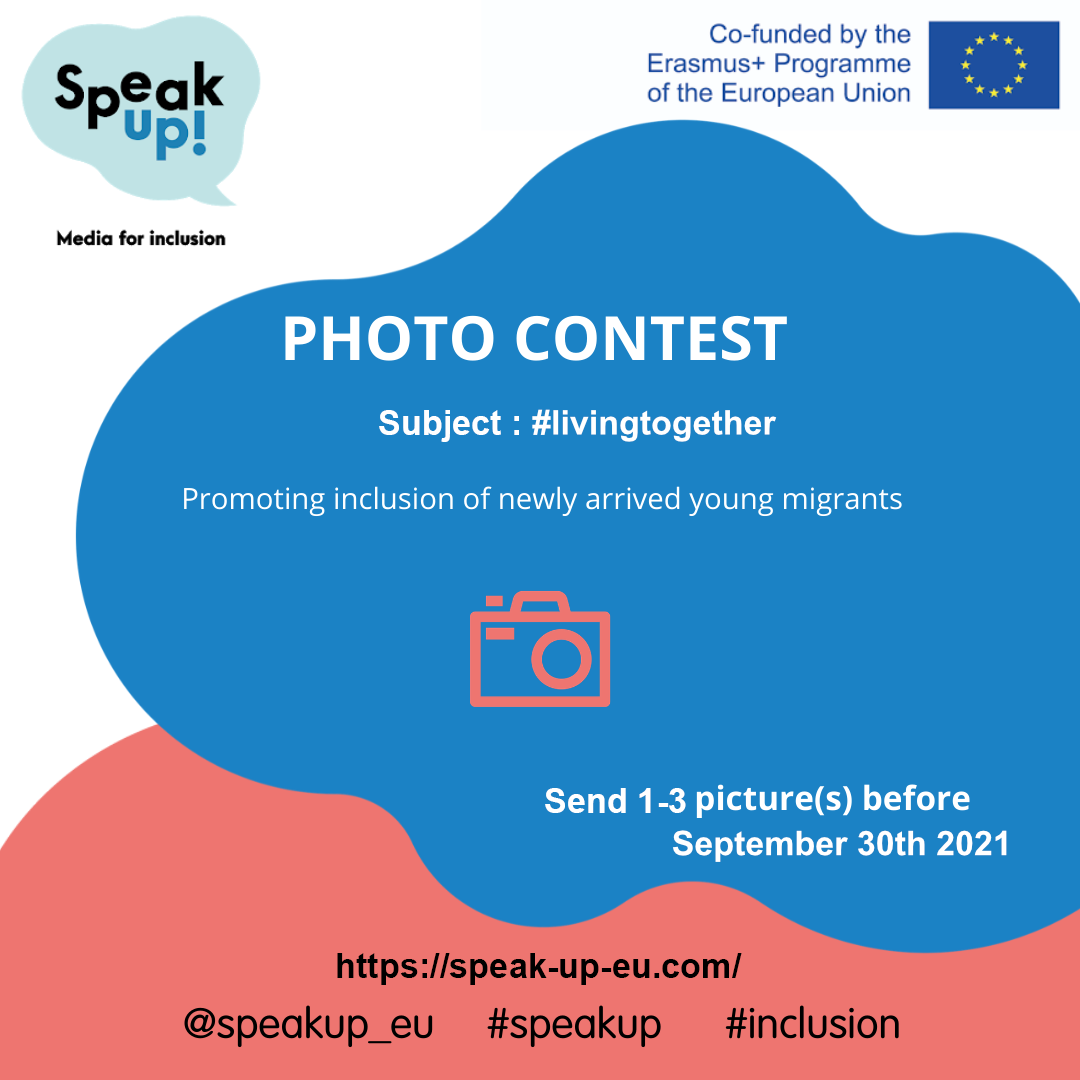 SPEAK UP PHOTO CONTEST
For more information ask at: info@karposontheweb.org or call 2130435978
Best Practises
During the first phase of the program, best practices were collected from every organization depending on their specialty for the implementation of the workshops.
Workshops
The purpose of these workshops is to train young and newly arrived refugees and migrants in audiovisual production and media literacy (creation of films/video, podcasts etc) in order to help them integrate more smoothly into the new society in which they live.
Ithaka International Film and Media Festival
The project will be concluded with the Ithaka International Film and Media Festival (Netherlands) with parallel events happening across the 5 countries of the project together with the launching of an Instagram photography contest. The audiovisual works of the young refugees will be presented, during the Ithaka International Film and Media Festival and the parallel festivals across the 5 countries.
Audiovisual Guide
During the project 2 International Expert Meetings will take place discussing topics on issues of migrants/refugees and audiovisual media in order to publish a guide which will help journalists and media professionals, who produce material on those groups.